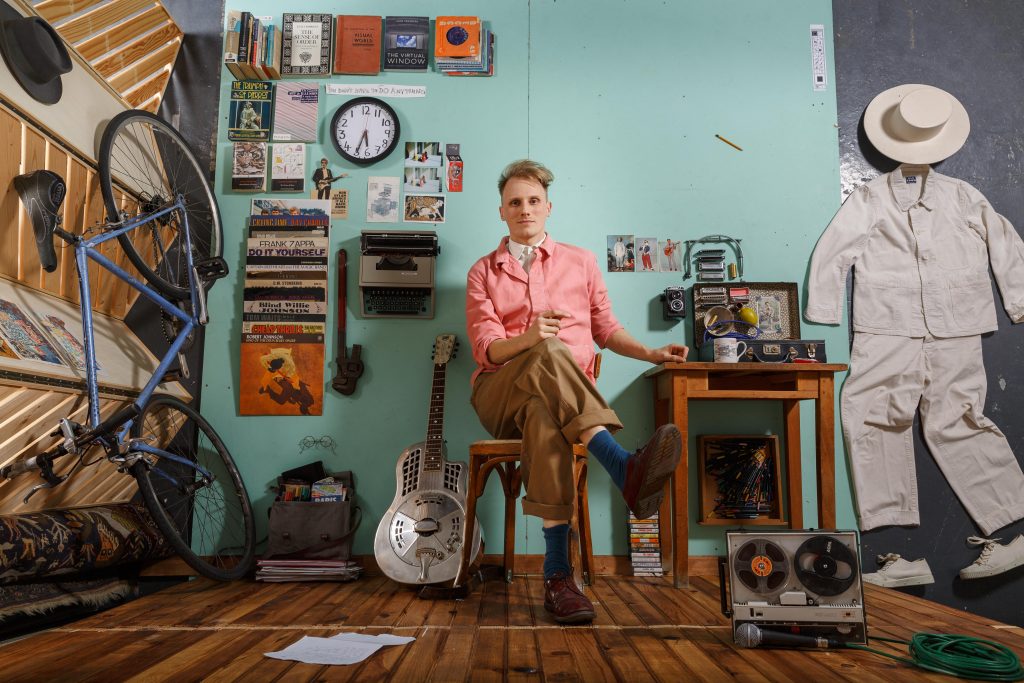 Photo © Snehargho Ghosh. Portrait from the In Situ series.
Rob Miles is an artist and musician, born in London in 1987, living and working in Paris. He makes drawings, paintings, lithographs, and collages, and writes songs which he performs with his band Rob Miles & Les Clés Anglaises
"Entre observation et abstraction graphique, Rob Miles joue, dans ses dessins, peintures, collages et lithographies, avec la fragmentation, la transparence et les perspectives multiples. L'artiste examine l'aplatissement de l'espace en imagerie bidimensionnelle. Prenant souvent une vue de haut comme point de départ de ses compositions, ses œuvres font référence aux plans d'architectes et à la profondeur non-dimensionnelle de nos écrans d'ordinateurs. "
Artist Statement, October 2021 :
The foundation of all my work is drawing. I draw from observation, memory and imagination, in the sketch books I carry with me constantly. Some of the drawings are then the starting point for collages, stone lithographs and paintings. These mediums, with their particular liberties and limitations, nourish each other and feed back into my approach to drawing. For example to develop an image through collage is to fragment the surface into separate elements, or to make an image using lithography requires the breaking down and building up of the composition using transparent or opaque layers. These techniques of fragmentation and layering will influence the construction of the paintings and will also affect how I see and translate my subject matter in the initial drawing. What is the subject matter? There are two intertwined investigations in my work. Firstly the depiction of the people, places and scenes I see or experience that capture my interest, which I draw directly from observation or otherwise from memory. I do not use photographs, as I am interested in translating what my eye sees and my brain interprets, which is a vision in motion, a vision that is constantly being filtered and informed by what the mind understands to be there, or could be, whether it be directly visible or not. Secondly, and just as importantly as the narrative content, is the graphic experimentation with the formal elements of picture making itself. Playing with the potential of line, shape, and composition I explore new possibilities of visual description, and question the illusion of 3D space. I work with the simplification or abstraction of figures, the questioning of the image through repetition or erasure, and the relationship of the edge of one element to another or to the edge of the image itself. As well as the rich precedent in the history of art and pictorial communication, I am influenced by the contemporary graphic language of digital technology, the illusion of depth on our computer screens, the hieroglyphs of our interface icons, and the evolving view of the world as seen through satellite imagery, computer generated 3D modelling and infographics. It is this combination of the pictorial language of the past and the intense visual stimulation of our present times that forms the backdrop of influence on my personal approach to depicting what I see and interpret. In recent years I have been developing a way of constructing a scene using multiple perspectives and fragmented figures. Whether this is a comment on the dizziness of our visual world, a compositional solution to breaking out of a fixed 'photographic' way of looking at the world, or both, is something I try to avoid thinking about too much as I find that the ideas and intentions are generated, evolved and explained in the actual doing of the work. The initial decision for a work may be relatively simple, such as a self portrait with a guitar (some of the parallels with my paintings with that of the rhythm and harmony of song composition are evident, but perhaps too tangential for now), or the crocodile enclosure of the Jardin des Plantes in Paris (a fascinating combination of architecture, nature, and theatricality), but it is in the attempt to portray and play with the subject matter and it's graphic possibilities that the real complexity and intrigue become exciting for me. In 2021 I concentrated particularly on larger format oil paintings on canvas, to push myself in terms of scale and to familiarise myself with this traditional medium which I am less accustomed to. Each piece poses a new challenge for me, be it an attempt to flatten an entire interior into a schematic pattern with no right way up, to try a more traditional self portrait using only mirrors and careful observation, or simply wondering if I can paint the water in a swimming pool with a mop !
---
CV
Exhibitions
2023
– Au-delà du miroir : 20 ans de figurations parisiennes, Galerie T&L, Paris
– Novembre à Vitry, Galerie Municipale Jean-Collet, Vitry-sur-Seine
– Drawing Now, avec Galerie Catherine Putman, Carreau du Temple, Paris
– Opening Lines, solo show, Galerie Catherine Putman, Paris
2022
– Daily Life not So Simple, SNU Museum of Art, Seoul, Korea
– Orbe, Galerie Ariane C-Y, Paris
– Drawing Now, avec Galerie Catherine Putman, Carreau du Temple, Paris
– Litho-Kielce Triennal of Lithography, Kielce, Poland
2021
– Novembre à Vitry, Galerie Municipale Jean-Collet, Vitry-sur-Seine
– My Own World, Tajan Gallery, Paris
– Mythologies Quotidiennes 3, The Blind Lady, Paris
– Abrakadabra Comme Des Castors, La Cabane de Georgina, Marseille
– Information Only &, Galerie Jeune Creation, Romainville
– Home Perspectives, Mayfly Gallery, Espace Christine Peugeot, Paris
– I Do Not Care, Gallery A2Z, curated by de Marianne Dollo
– Une Monde à Votre Image, Revelations Emerige, Hotel Des Arts, Toulon
2020
– Une Monde à Votre Image, 7ème Edition de la Bourse Révélations Emerige, Paris
2019
– Litho-Kielce Triennal of Lithography, Kielce, Poland
– Dear Crocodile, Galerie Premier Regard
2018
– Cschiiï, curated by Marine Lefebvre and Atelier Coop , Treize dix Gallery, Paris
– Back To The Drawing Board. Reid Hall, Paris
– Interiors. Vortex Gallery, Huddersfield, UK
2017
– Teacher ! There's Too Much To Learn… Galerie Premier Regard, Paris. Selectioné par Gilles Fuchs
– Hors Cadre. Galerie des Grands Voisins, Paris
– The World Is So Small It's Enormous. Reid Hall, Paris
2016
– SUBJECT MATTER. Benevolent Association of Excellent Solutions, London
– Histoires pas naturelles, Château de Rochebonne, Theizé, France
2011 – 2015
– Royal Academy Summer Exhibition, London
– FOLD> Portfolio. Impact 9 Print conference, Hangzhou, China
– PR!NT: Art in Print Today. La Cambre Galerie, Bruxelles
– SHOW 2015 : Royal College of Art Degree Show, London
– Ruth Borchard Self Portrait Prize. Kings Place London, and Pallant House, Chichester
– Draw The Curtains. Curator and exhibitor. DIG Space Lewisham, London
– Transition exhibition, interdisciplinary new media art, Red Gallery, London
– Gravure exposée pour INVISIBLE, Art About the Unseen, Hayward Gallery, London
– Everything must go! Where? The Russet Gallery. Hackney Downs Studio, London
– MILESKM. International collaboration. La Tabacalera, Madrid
Prizes
2020 : 7e Edition de la Bourse Revelations Emerige, Paris
2015 : Anthony Dawson Young Printmaker Award – Royal Society of Painter-Printmakers, London
2015 : Ruth Borchard Self Portrait Prize – acquisition of work for the Next Generation Collection, London
2015 : Drawing & Etching International Student Prize, PigPrints, Milan, Italy
2013 : Retreat Prize – Wimbledon College of Art, London
Residences
2024 : Villa Radet, Montmartre : Cité Internationale des Arts
2016 – 2019 : Visiting Practitioner, University of Kent Paris School of Arts & Culture, Paris
2016 : Visiting Artist Residence, Seacourt Print Workshop, Bangor, Northern Ireland
Education
2013 – 2015 : MA Fine Art Printmaking, The Royal College of Art, Londres
2010 – 2013 : BA Fine Art: Print & Time Based Media, Wimbledon College of Art, UAL, Londres